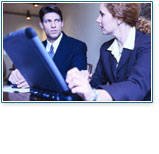 Alimex is committed to provide its clients the services they need now with the highest possible quality of tomorrow's technology. To meet clients' requirements the people at Alimex provide personal attention to each client and offer him tailored solutions for his business.
E-Solutions come to live with our knowledge and long experience in providing IT services. Our team brings innovation to your business and ideas for new clients winning strategies. We provide your company's complete Internet presence with the flexibility to be different all the time.


If you want to meet our team in person and learn more about how we can help your company to create or improve its online presence, streamline its IT assets and reduce capex and opex, write us at
sales@alimex.biz
. We promise to give answers to all your questions and take care of your e-business like it is our own child.
Please note: Our team keeps all your questions and plans in strict confidentiality and we will never discuss or share your ideas with anyone else. Our personal attitude to each client is what makes us what we are.